"You have to get obsessed and stay obsessed." John Irving.
That quote is from my favorite John Irving book, The Hotel New Hampshire. Usually if I like something, I really like it; some would say I get obsessed. I didn't start out liking the Food Network show Chopped, but it grew on me. The premise, in case you don't know, is a competition cooking show where they are given a basket with 5 unknown ingredients and must cook from those, adding other things from the "pantry." Well, now, I watch it–a lot. Even repeat episodes, because if I watch the new ones, invariably I am paying more attention to the techniques of the person I am rooting for and not to the other chefs, so I'll watch when it comes around again, trying to see what I've missed. You can also learn so many tips and techniques from the judge banter on that show. So, Chopped grew on me so much that it is now how I regard dinner, which also helps a lot with "What will we have for dinner today?" I don't know. Go grab 5 ingredients.
Using the Chopped game plan, there is always something to cook. This recipe came from that plan. I knew there was corn in the fridge that needed to be used up. There was also a lonely shepherd pepper (a variety of sweet red pepper) and sweet potatoes that had seen better days. Even though it was the middle of July, what came to mind was soup. Specifically, corn chowder, which normally gets it's creamy texture from regular potatoes, but we didn't have any. Why not try combine the sweetness of all three of these ingredients? To round out our "basket" I discovered there was chicken andouille sausage in the freezer. We have recently been trying to be more vegetarian, and there are still some oddities lurking, so the sausage was added to bring smoky spice to the party. The usual suspects, onion and garlic, are always around, as well as vegetable broth.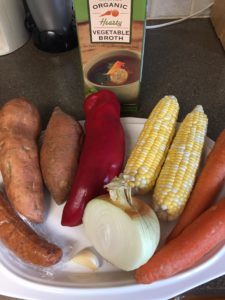 So, the sweet potatoes got into the oven to roast, the corn was shucked, and the shepherd peppers were char-roasted on top of the stove. A note here…If I can nearly set something on fire in the kitchen just for fun, that automatically becomes a better recipe. Roasting peppers on top of the stove, over the gas flame, creates a deeper flavor and brings out the sweetness of the peppers. If you are making a vegetable soup, it always helps if you roast your vegetables and then simmer them in the broth you will use. It helps to layer the flavors.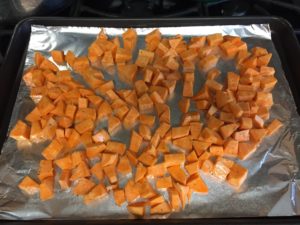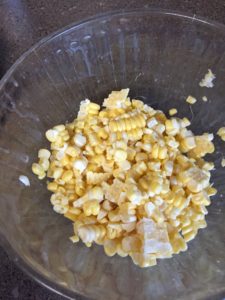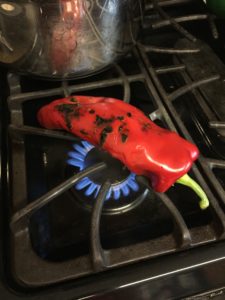 It seems like there isn't a meal I cook without chopping an onion. This soup is no different, and carrots were also used to bring flavor to the broth. These were added to the dutch oven to soften and caramelize while the vegetables roasted. The andouille was chopped and added to the onions to rend off the fat, again, layer those flavors!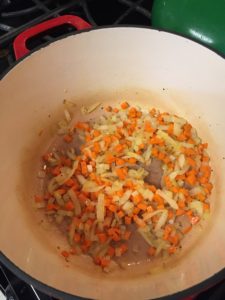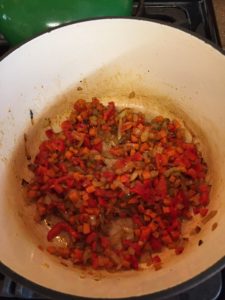 As fun as it is to char those peppers, you don't want the black bits in the soup. The easiest way to take care of that is to put the peppers in a bowl and cover them so the burnt skin will steam and loosen. Then you can just rub it off with a paper towel or the edge of your knife before you chop them up.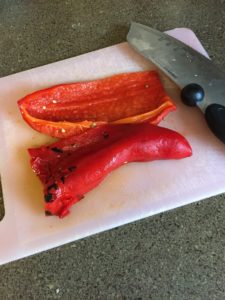 The tricky part was that I wasn't forward thinking. I wanted the andouille to flavor the onions and carrots, but I didn't want it to be lost when I had to put some of the soup in the blender later to create the creamy goodness. There usually isn't a meal where I don't go "Darn, I should have…" And this was the one mistake in this. Cook the andouille FIRST in the pot, then take it out and add the onions and carrots to soften in the rendered fat. Then add the sausage back in later. *face-palm* Oh, well. I'll do it right next time. (And it's right in the steps in the recipe below)
Sweet Potato Corn Chowder
1 large carrot, peeled and diced
2 ears of sweet corn cut off the cobs (you can also use frozen corn kernels, about 2 cups)
1 medium onion, diced
2 medium sweet potatoes, peeled and chopped into 1/2 in. pieces
1 shepherd pepper (or red bell pepper) roasted and diced
1 tbsp. olive oil (for roasting potatoes)
1 tbsp. olive oil (for pot with onions and carrots)
4 oz. andouille sausage chopped (smoked kielbasa or ham would also be delicious in this)
4 cups vegetable broth
1 clove garlic, minced
Salt and pepper to taste
1 tsp. Cajun seasoning mix (Such as Emeril's Bayou Blast or Old Bay. I used about a teaspoon of both) *See seasoning note below recipe
Toss sweet potatoes in 1 tbsp. olive oil and spread on foil lined baking sheet. Season with salt and pepper to taste. Roast in  400 degree oven until fork-tender and browned. (about 20-25 minutes)
Roast the pepper over the burner on your stove. You can hold it with tongs. Be careful. You want it to blacken and soften. When it is charred evenly, put it in a bowl and cover with plastic wrap. You should see the steam build up in the bowl. Leave it there for 3-5 minutes and then rub the pepper with paper towel to remove the charred bits. Seed and stem the pepper, chop it and set it aside.
While potatoes are roasting, heat 1 tbsp. olive oil in dutch oven or large soup pot over medium heat add chopped andouille sausage and sauté until browned. Remove the sausage from the pot, and add the onions and carrots to the pot. You will add the sausage back to the soup before serving.
The onions and carrots need to be soft and well caramelized. Watch that they do not burn. Add the garlic after the onions and carrots have turned golden so the garlic will not burn as they finish cooking together. Season with salt and pepper.
The potatoes should be done and now need to go into the pot with the onions and carrots. Add the chopped pepper at this point as well.
Pour in the 4 cups of broth, and add the seasoning blend. Bring to a simmer.
Now to make it creamy. Use a ladle to scoop out 2-3 cups of the broth and potatoes into a blender to puree it and then add it back to the soup pot. If you want your soup creamier, blend more. I like to have some chunks of potatoes left.
Add the corn and sausage. Let simmer for 10-15 minutes for flavors to blend. Taste and adjust seasoning to your liking.
*Seasoning note: Creole seasoning can be made from this blend of spices, and stored:
2 1/2 tablespoons paprika
2 tablespoons salt
2 tablespoons garlic powder
1 tablespoon black pepper
1 tablespoon onion powder
1 tablespoon cayenne pepper
1 tablespoon dried oregano
1 tablespoon dried thyme