I'm very much a spur of the moment cook. This troubles some people I know who always ask me, "Do you have the recipe for that?"
Often, the answer is, "No, but if you give me a minute, I can probably pull one together for you." I know this is not something everyone does, but it has become the way I think in the kitchen. Cook first, recipe later.  I go back to my Food Network addiction for the reason, I guess. That, and as long as I can remember, my mom would read cookbooks. She went to culinary school, and I'm probably not as appreciative of that fact as I should be, but I think it certainly helped immerse me in food experiences. This gives you a lot to work with if you see similar recipes frequently, you start to learn what goes with what, and how you can combine things. Which brings us to this recipe. I have used and tweaked a recipe for lentil vegetarian 'meatballs' (that name bothers me, because I think they don't need the nod to meat, but that's another post for another day). So, I made these lentil bites, as we have come to call them, and they reminded me of falafel…sort of. I wanted to take them to a gathering with friends, and needed something that would be quick and dip-like. Welcome to "Chopped the Sauce" episode. I had yogurt, cucumbers, lemons, and some dill weed in the spice rack. I tossed those together and ran out to the gathering, where I was met with the question about recipes again. Therefore, here it is, with some additional herbs that seemed to fit with the lemon/dill flavoring. This is good for dipping just about anything and putting in pita bread with chicken, lamb, or turkey.
Here are the "basket" ingredients. Yogurt, mint, lemon, cucumber, dill, salt and pepper.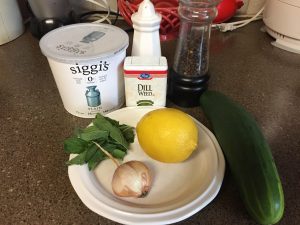 Peel as much peel as you want off the cucumber. I leave some peel on for crunch and color. Seed and chop half of that cucumber. Chop the tiniest shallot you can find.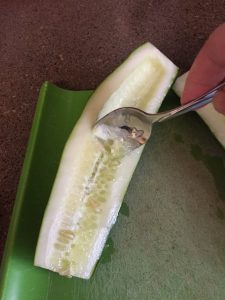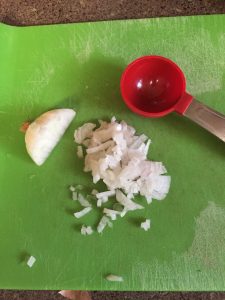 Zest the lemon, squeeze some juice, add your seasonings, and mix it up.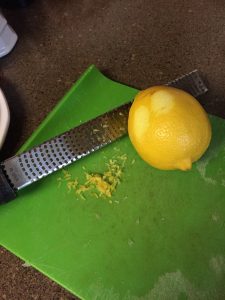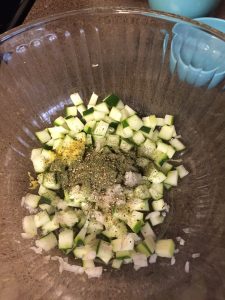 Add the yogurt, and that's it! Yogurt sauce in 10 minutes!
Lemon Cucumber Yogurt Sauce
1 cup yogurt (greek works best, I use nonfat)
1/2 medium cucumber (about 3/4 cup chopped)
1 tbsp. minced shallot (or green onions are nice)
1 tsp. dill weed
1/2 tsp. chopped mint leaves
1/2 tsp. lemon zest
1 tsp. lemon juice
salt and pepper to taste (about 1/4 tsp of each)
Peel (if you wish) and then slice cucumber lengthwise, seed and chop to 1/2 inch dice or smaller. Put in a mixing bowl.
Peel and mince shallot, add to mixing bowl.
Chop mint leaves, add to bowl.
Zest lemon then slice and squeeze lemon juice. Add zest and 1 tsp. juice to bowl.
Add yogurt and mix well, adding salt and pepper to taste.
This sauce gets better as it sits. You can make it up to an hour ahead. The salt may cause the cucumber to "weep" a little. Just stir it back together, and it should be fine.