Email for orders at least 1 day before you'd like to pick-up or have delivery. Delivery in Dearborn, MI area is free, farther, there is a charge. We serve the metro Detroit area.
The soup this week is vegan, as are the lentil bites, if that's your thing. The soup freezes beautifully and you could thaw it out for your Thanksgiving table.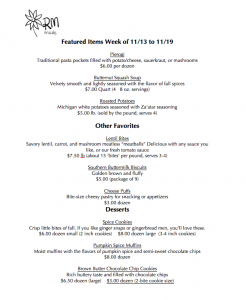 Click on photo to enlarge menu. Email or call for orders. Orders may be picked up or delivered. Delivery fee applies for outside the Dearborn, Michigan area. Contact rmp@rmmade.com or text (313)757-0099 for details.