I'm a definite creature of habit. All my life, dinner was on the table by 5:30, starting when I was a child, and I have stuck to that as an adult. As an adult, with kids and a job, that wasn't always easy to do, especially if you wanted to cook something from scratch and needed it in a hurry. Now that it's just two of us at home, and I don't work in the outside world any more, I have more time to make something that may be more time intensive. More often than not, I find I've gotten caught up in a project (or guilty binge-watching) and I'm in the same old "must-make-dinner-NOW!" position. Not only does this require having ingredients on hand, it requires timing. Believe me, that sense of timing took me a long time to acquire. This week's recipe is can be accomplished in just about a half hour. I'll try my best to explain the timing as I go along in this post.
Pressured by writing for a name, I give you Seared Chicken Breasts with Cherry Cider Sauce. You can serve it with whatever side you like. We had brussels sprouts and green beans on hand. (More about those as we go on) Here are the ingredients for the chicken: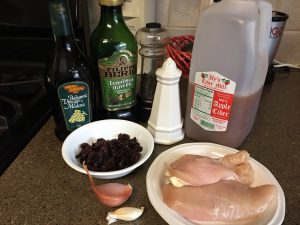 The main ingredients you need are cider (you could use regular apple juice, but the flavor will not be as naturally apple), dried cherries (you could use dried cranberries…or any dried berry), balsamic vinegar (often my best friend in the condiment world), a small shallot (onion's milder pal…you could use a small onion if that's what you have), a small clove of garlic, and an 8 ounce chicken breast sliced lengthwise into two cutlets. The other usual ingredients, olive oil, salt and pepper are also used. If you have poultry seasoning or dried ground sage, that would be great also.
The thing that takes the longest in this recipe is the sauce. You are going to be doing some reducing, which is a way to get richer flavor from your ingredients. Before you start doing anything else, in a small saucepan, combine a cup of the cider, 3 tablespoons of balsamic, and 1/2 cup of dried cherries. Bring it to a boil over medium heat, and allow it to reduce by half and the dried fruit has plumped back up. This will take 15-20 minutes of simmering over low heat, and you can do everything else while it's simmering away. Just keep an eye on it so it doesn't burn and then just turn off the heat if it finishes and you're still working.
As I said, there are only two of us at home now, so that is what I tend to cook for. The sauce will make enough for 3, and you could just double it if you need more. Also, we are conscious of serving sizes, so that is why the chicken breast was thinned. You could purchase the smaller cutlets in the first place if you want to save the step of thinning the breast. The reason for this is 2-fold: right size portions and FAST cooking.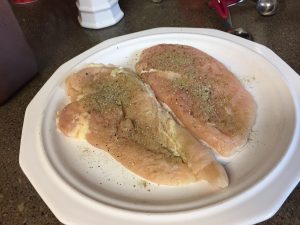 The chicken breast was sliced into cutlets, and pounded to 1/4 to 1/2 inch thickness, then seasoned with some poultry seasoning, salt, and pepper on each side.
Heat up a skillet and add a tablespoon of olive oil. Add the chopped shallots and garlic to the pan, stirring frequently so the garlic doesn't burn. When the vegetables are softened and slightly browned, add the chicken to the pan. Leave the chicken alone for about 3 minutes on the first side so that it can get that tasty caramelization. Then flip it and cook on the other side for about 3-4 minutes. It goes that fast because of the thinness of the chicken. Remove it from the pan, scraping some of the shallots and garlic to top the chicken.
While the sauce was reducing, and the chicken was cooking for our dinner, the brussels sprouts and green beans were roasting. I buy brussels sprouts already halved (again, we don't need that many here for 2) and I had already prepped the green beans after I got out all my ingredients (trimming ends and halving them). These vegetables were simply tossed in olive oil, salt, and pepper and roasted for 20 minutes on 400 degrees while everything else was cooking.
When you are ready to serve, plate a piece of chicken, spoon some of the cherry sauce over the chicken, and add your side dish. Really, it was about 30 minutes to get this: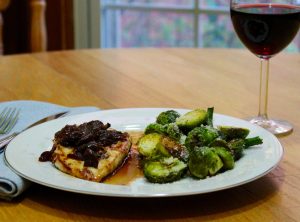 Click into the RECIPES tab for the full recipe. Enjoy!